Covid-19 had an unprecedented impact on diplomacy. The wheels of international diplomacy came to a standstill. Foreign ministries, embassies and multilateral institutions are all closing their doors. The chamber of the UN Security Council was abandoned; The Palais des Nations in Geneva fell silent while the NATO headquarters was inactive. When physical diplomacy was suspended, diplomats turned to digital technologies to overcome limitations and barriers. Some embassies used WhatsApp groups to coordinate consular assistance. Other diplomats turned to social media to interact with citizens stranded in remote locations. Diplomats also advocated video conferencing. In fact, the use of zoom-like technologies was so ubiquitous that video conferencing shaped the aesthetic of leadership during the pandemic. Images of executives participating in conference calls, as shown in Figure 1, were used to signal effective crisis management.
The question posed in this article is what digital technologies used during Covid-19 will remain an integral part of diplomacy after the pandemic ends. This is an important question as the wheels of diplomacy are already on the move again. In March 2021, the foreign ministers physically attended the meetings at NATO headquarters in Brussels and signed strategic agreements in Tehran. In order to answer this question, the course of the digitization of diplomacy must first be examined. Practitioners believe that the digitization of diplomacy has progressed linearly. Until 2012, diplomats used virtual embassies to overcome the limits of offline diplomacy. This can be seen in the introduction of the virtual American embassy in Iran, which aims to overcome the lack of bilateral relations. Next, diplomats turned to social media to interact with distant diasporas or to shape the worldviews of foreign citizens. This was followed by the mastery of the algorithms by the diplomat and the establishment of departments for digital diplomacy. Eventually, MFAs launched their own smartphone applications.
On closer inspection, however, it becomes apparent that the digitization of diplomacy was consistently shaped by offline Events. The Arab Spring was the first offline event that changed the way diplomacy was digitized. The limited use of social media by Arab Spring protesters resulted in a shift from virtual diplomacy, characterized by virtual embassies, to digital diplomacy, characterized by the massive use of social media websites by diplomats. MFAs believed that they could interact with foreign populations through social media, shape their worldviews, and advance foreign policy goals. However, digital diplomacy has also relied on listening or monitoring online conversations to anticipate the next wave of disruptive revolutions.
The path of digitization was changed again after the Russian disinformation campaigns during the Crimean crisis in 2014 and the US elections in 2016. Diplomats viewed social media as tools for foreign interference. The British Foreign Office then set up a big data unit tasked with monitoring and deactivating fake social media accounts. To combat disinformation and hate speech online, the Israeli Foreign Ministry has set up an algorithmic unit where programmers have written algorithms connected to social media platforms that automatically remove hateful content.
Covid-19 is likely to change the course of the digitization of diplomacy yet again as the world could soon face a similar crisis, be it due to environmental degradation or the ease with which viruses can spread in a connected world. As Hannah Ardent wrote, anything that has a precedent is meant to happen again. Taking into account the warning from Ardent, it can be assumed that three digital technologies will remain an essential part of diplomacy after Covid-19. These technologies will help diplomats cope with the challenges of Covid-19 – the lack of physical diplomacy and the need to conduct global consular operations.
The first technology to survive Covid-19 is video conferencing. Diplomats have developed an affinity for conferences that saves time and resources. This is especially true for multilateral hubs, where diplomats travel for hours from one institution to the next. For example, United Nations ambassadors in Geneva start the day at the World Trade Organization and then travel to the International Labor Organization before informing the World Health Organization. In addition, video conferencing enables MFAs to continuously train their diplomats. During Covid-19, the Swedish, Danish, Portuguese and Israeli foreign ministers used video conferencing to hold professional seminars and workshops. Multilateral institutions and MFAs could soon develop their own video conferencing platforms that could be used in the next global crisis to ensure that diplomacy continues to function without physical contact.
The second technology that survives Covid-19 is chat bots. Bots are automated software designed to mimic human behavior. During the pandemic, the Lithuanian Ministry of Foreign Affairs designed its own consular chat bot. Given the MFA's limited size and resources, the bot was designed to answer basic consular questions ranging from emergency flights to listing travel warnings. When the bot encountered questions it couldn't answer, citizens were referred to diplomats. Future pandemics are also likely to be marked by the need to step up global consular rescue efforts. Sophisticated chat bots can relieve the consular departments and provide citizens with important information.
The third technology is big data modeling. During the pandemic, Israel operated a joint "war room" where diplomats, health workers, epidemiologists and computer scientists came together. Their goal was to track the likely progression of Covid-19 and focus efforts on areas where an outbreak is likely to occur. Such modeling can serve as a basis for future responses to global consular challenges, as diplomats can extrapolate the possible course of a pandemic. For example, models can show that an outbreak in Germany will soon lead to an outbreak in Italy. Diplomats can then focus on evacuating citizens from Italy, while citizens stranded in Japan come second. Digital collaboration between foreign ministries and health ministries can improve diplomats' ability to meet consular needs during a global crisis.
Covid-19's digital legacy will therefore focus on distance. Video conferencing is used to overcome social distancing, while big data modeling, thanks to effective prioritization, will reduce the distance between diplomats and stranded citizens. For example, an offline event will once again change the leading diplomats in the field of digitization to use new digital technologies and new work processes.
---
Figure 1: The aesthetics of leadership during Covid-19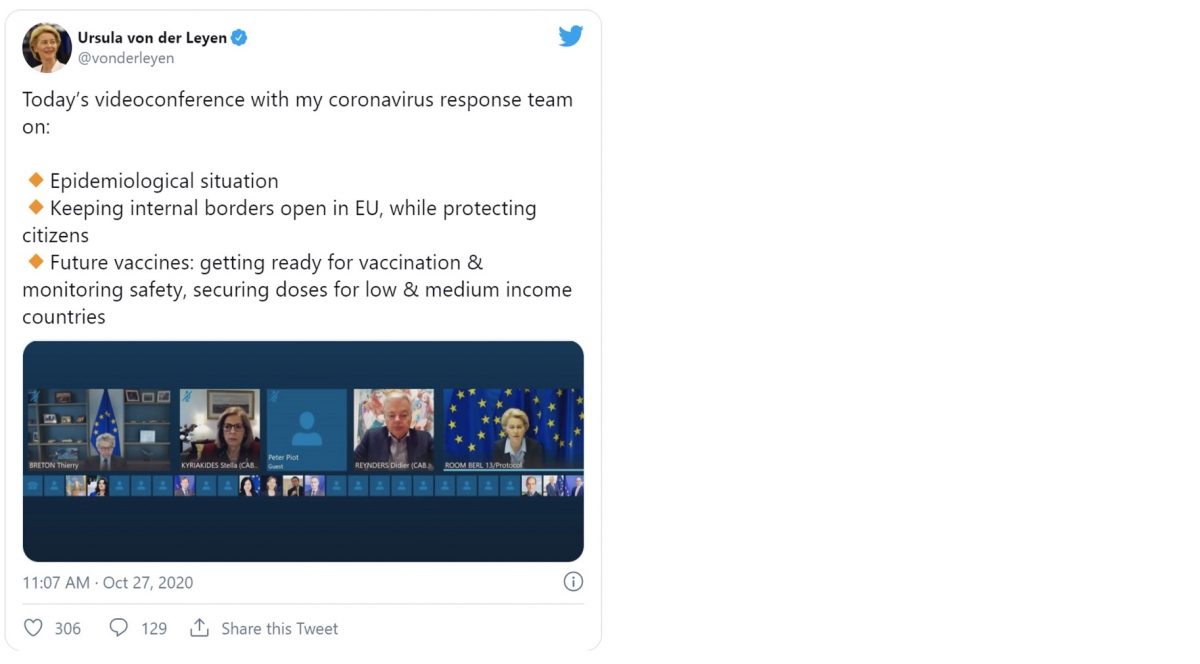 ---
Figure 2: How offline events affect the digitization of diplomacy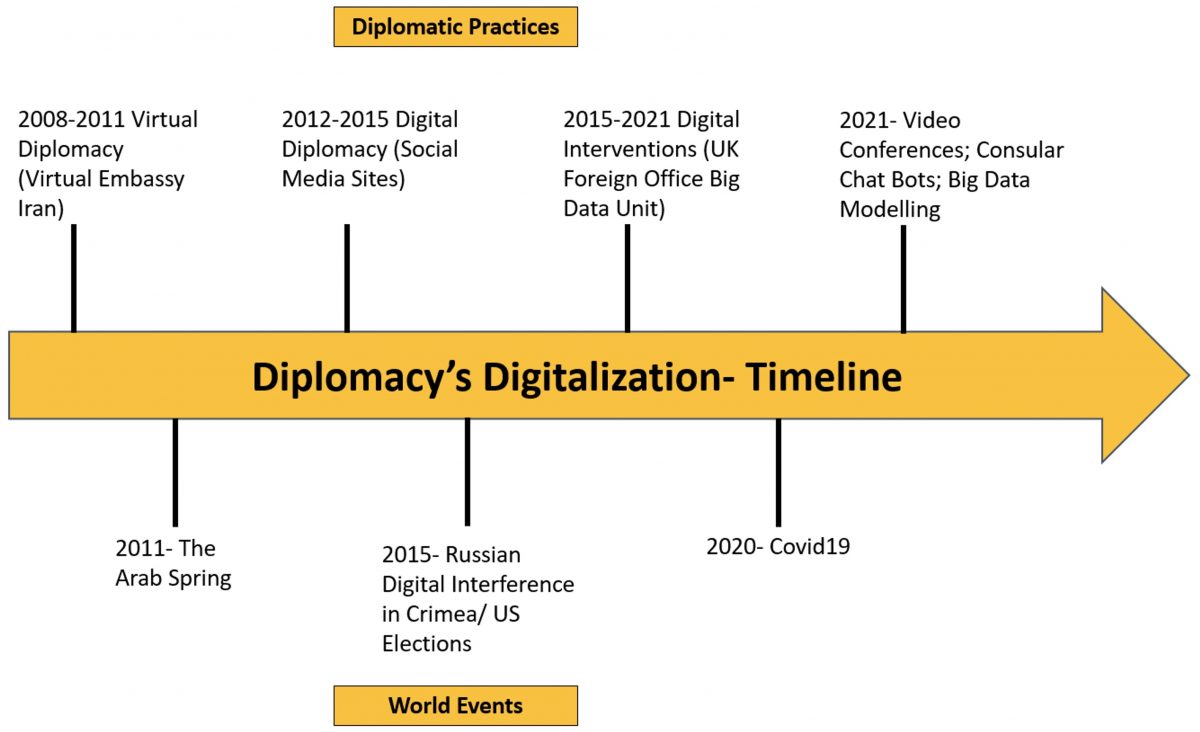 ---
Further reading on e-international relations